Gratis verzenden vanaf €50,- & vaak binnen 1 dag in huis!
Gratis 5 samples en cadeau bij elke bestelling!
Merk
hannah Body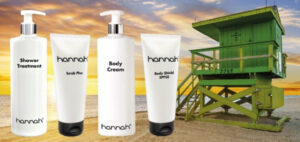 Huidverbetering met hannah van top tot teen! De lichaamshuid heeft specifieke eisen ten aanzien van haar verzorging. Het is van groot belang dat de lichaamshuid goed beschermd wordt, soepel en gehydrateerd blijft en wordt voorzien van de juiste voedingsstoffen. De Body lijn bestaat uit: Shower treatment, Body Oil, Body Cream, Scrub Plus en de Body Shield SPF 50.
Geef acne geen kans met de hannah Prepare Potion of de Active Lotion, SebuPure en de Overnight Cream en de Pro Active Mask. hannah Clear is op basis van natuurlijke werkstoffen en de lijn bestaat uit: hannah Cleansing Oil, Sparkling Spray, Skin Conditioner en de Clearity Cream. De meest verkochte hannah producten zijn de hannah Touch of Silk en de hannah 24-Hour Skin Balancing Cream en de hannah Enzymatic Skin Peeling. Er zijn mini's van: 24-Hour Skin Balancing Cream, 4Youth, Touch of Silk, Brilliant Touch, Touch of Colour en Juvi Protect.